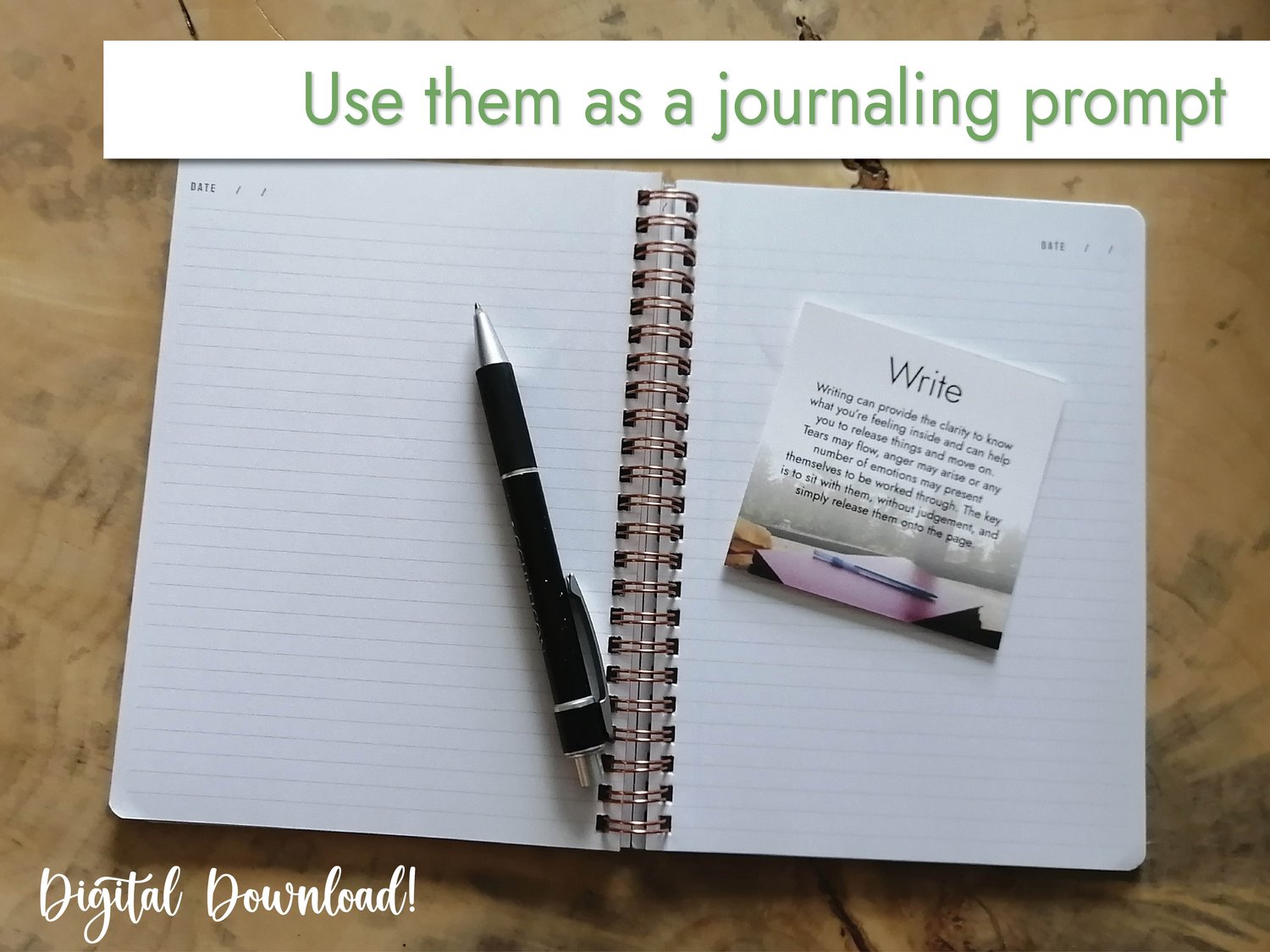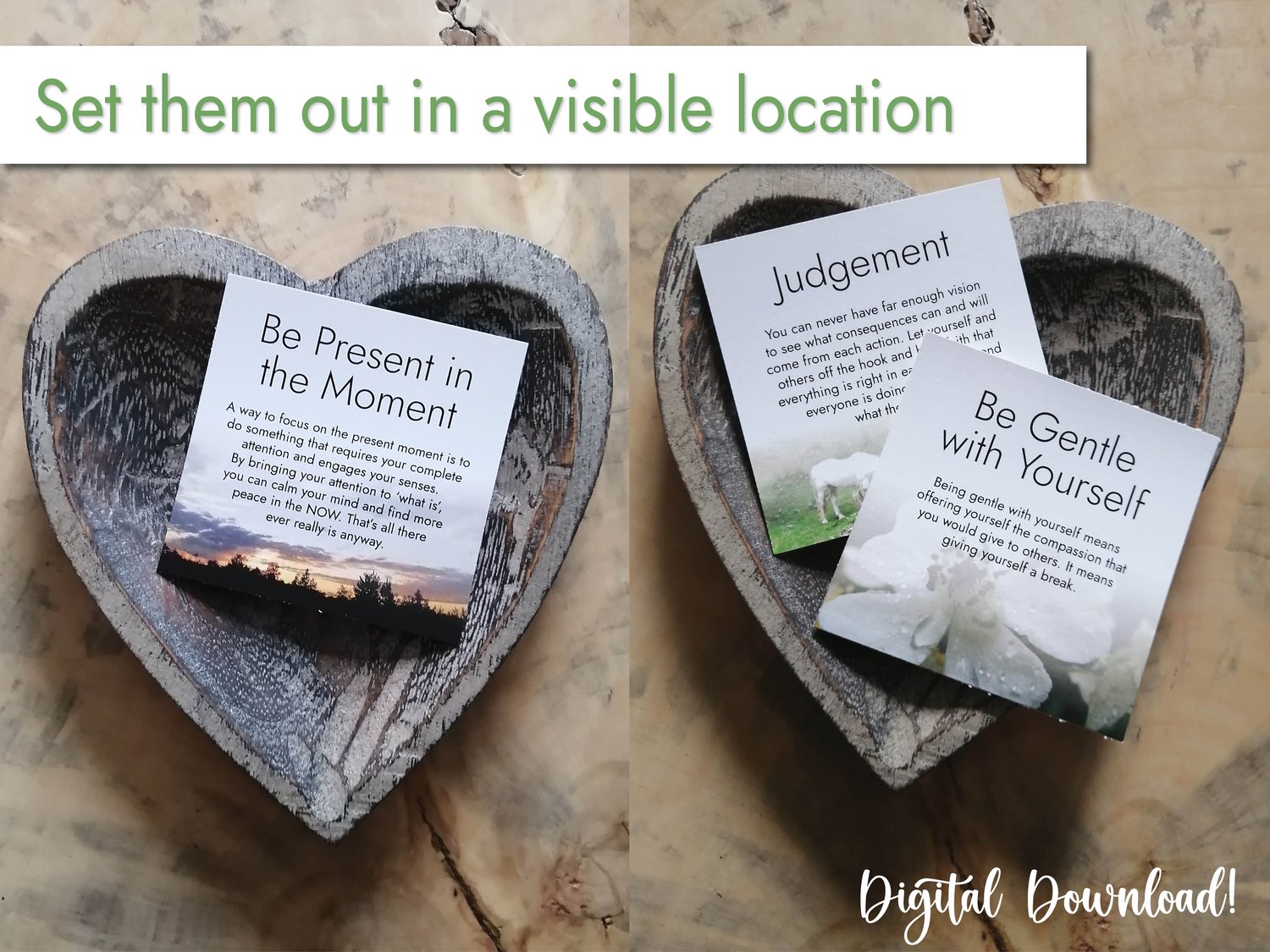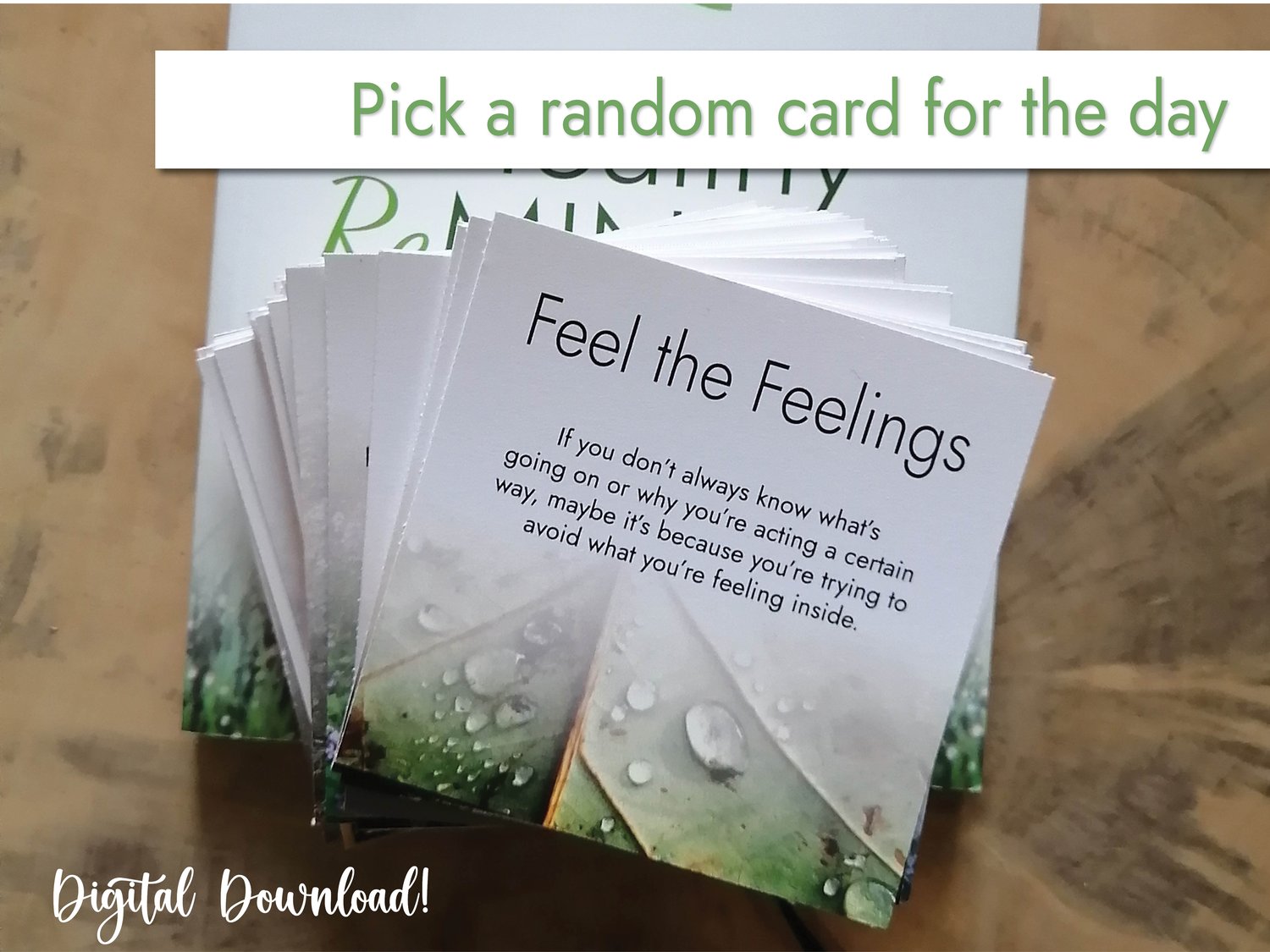 Healthy ReMINDers Printable Flash Cards
THIS IS A DIGITAL DOWNLOAD, PRINTABLE FILE.
NO PHYSICAL ITEM WILL BE SENT.
A collection of 90 printable Mental Health Flash Cards/ Self-Care Reminders.
Anxiety, Depression, Fibromyalgia, Chronic Pain, Mystery Illnesses, even the stress of everyday life...they can be a lot to manage and sometimes you don't always succeed. You may have a mind that over-thinks. You may have a sensitive, empathic nature that becomes overwhelmed by the weight of the world. Sometimes, it all just becomes too much.
I know that struggle well. I've lived that experience for over half of my life. Pretty much everything I listed above I have fought through, managed and survived. That's what these cards, and the original Healthy ReMINDers book I created, were inspired by...the very real, practical tips, tools and strategies that helped me find a sense of (mostly) balance and peace. 
In this printable, digital download, you will receive 90 flash cards of A-Z strategies to help manage your mind. The combination of beautiful imagery with bite-sized nuggets of wisdom makes them a convenient and versatile form for those who might like a more hands-on approach than reading a book and a practical tool that you'll be inspired to use again and again. 
I am not a professional and can only share what's worked for me but I hope these cards can be a source of encouragement, inspiration and support for your own healing journey...whatever that looks like for you. 
Some Ways to Use Healthy Reminder Flash Cards:
- you can pick one randomly each day to see what message will help in your current state.
- you can post your card on a mirror or fridge as a daily reminder.
- you can use them in your mindfulness practice or meditate on a specific message.
- you can use them as journal prompts.
- you can use them as bookmarks.
- or you can keep in a self-care kit.
What You Will Receive:
- 15 sheets (8 1/2" x 11" and A4) in PDF files, 6 cards per page
- 90 square full-colour cards in total (approx. 3 1/4" x 3 1/4")
- a PDF thank you/instruction sheet
How to Print:
You can use Adobe Reader (free download) to open and print at home.
For durability and maximum impact the cards are best printed in colour on card stock.
If you only have regular paper and black ink, that's okay too. No judgement! Just set to print on grayscale.
For either option, just trim along the dotted lines
You can even laminate them to make them last longer.
Once you purchase, you can download and print at home, online or at a print shop.
* Due to the nature of this product, all sales are final, no refunds can be issued. Concerns or issues will quickly and happily be addressed.
* Due to differences in monitor and printer calibrations, colors may appear different in print than on screen.
* The final print quality will depend on the type of printer and paper used.
** I am not a professional and what I share in no way constitutes medical advice.
*** Each purchase is limited to three downloads.
I sincerely hope that you respect my time, creativity, hard work and copyright. My cards and all other designs are for personal use only and are not to be used commercially, distributed, modified, reproduced, or resold. By purchasing these cards, you agree to be bound by this agreement.
If you're interested in the full version book of Healthy Reminders, you can purchase the book in my Shop or through Amazon.