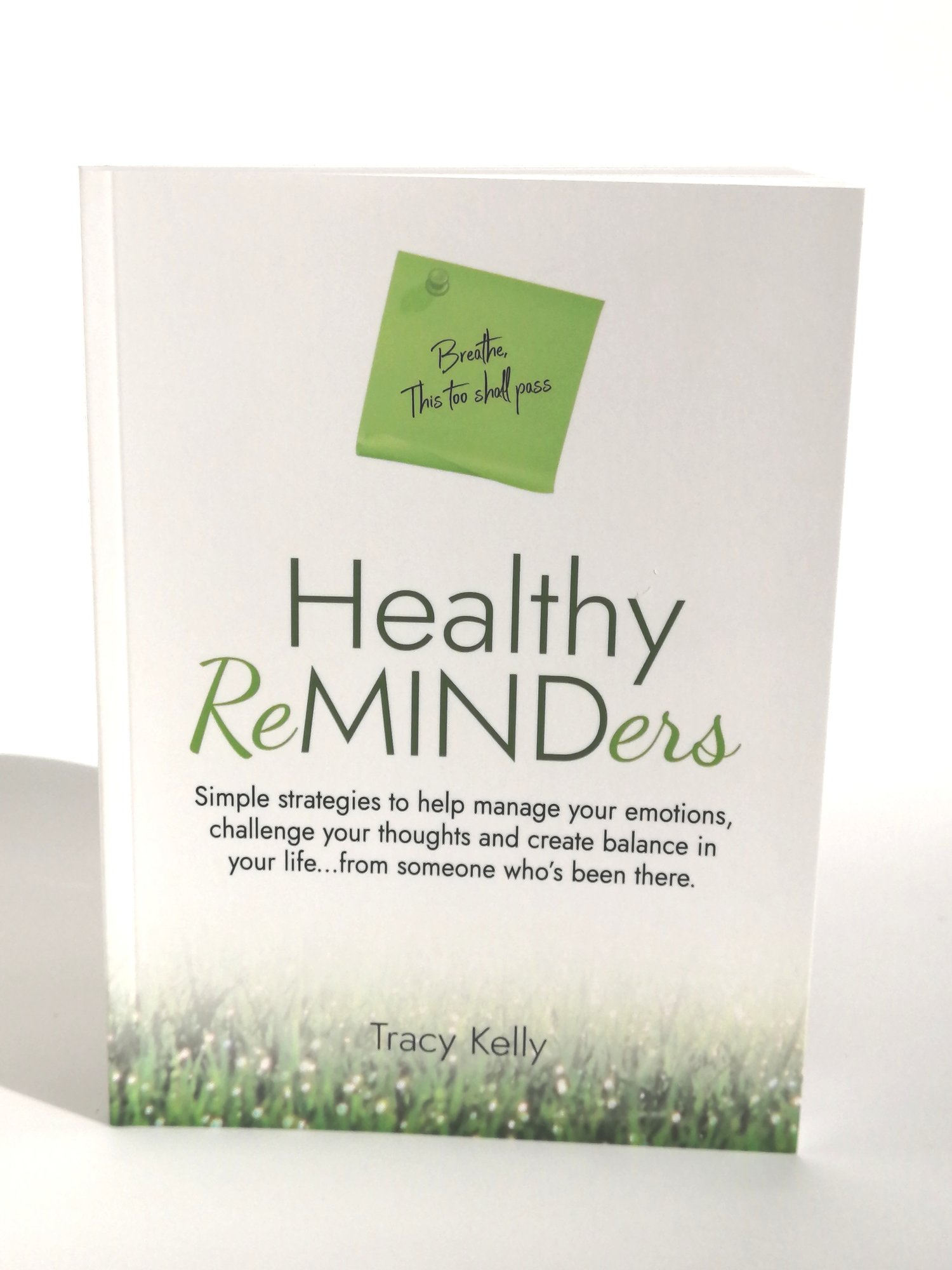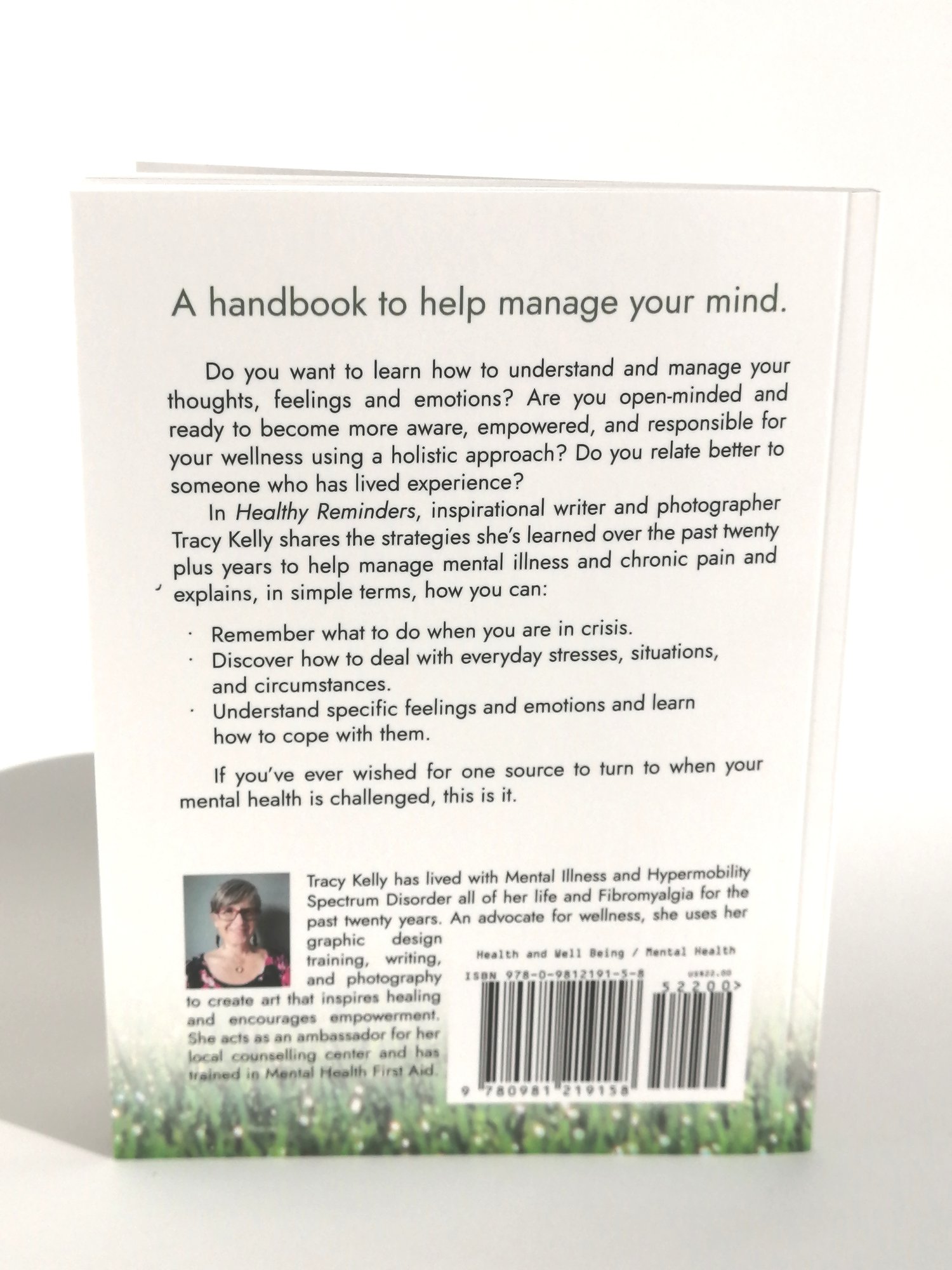 Healthy ReMINDers Book
A mental wellness resource book to help manage your mind.
Do you want to learn how to understand and manage your thoughts, feelings and emotions? Are you open-minded and ready to become more aware, empowered, and responsible for your wellness using a holistic approach? Do you relate better to someone who has lived experience?
In Healthy Reminders, I share the strategies I've learned over the past twenty-plus years that have helped me manage Anxiety, Depression, Fibromyalgia and Hypermobility Spectrum Disorder and simply the stress of every day life. Having a sensitive nature, being an empath, over-thinking or being too emotional; they all can leave you feeling unbalanced. I wish I'd had a book like this when I was younger. But as Brene Brown says, "One day you will tell your story of how you overcame what you went through and it will be someone else's survival guide".
May this be your survival guide.
The book is broken into three sections:
Emotional First-Aid - the top things to focus on when you're in crisis
Healthy Reminders - A-Z tips, tools and strategies from a holistic perspective
Specific Feelings and Emotions - Some personal accounts of how I've managed certain emotions.
Every tip is illustrated with one of my photographs as I strongly believe in the healing power of nature.
Size: 5 1/2" x 7 1/2"
Pages: 138
I am not a professional and can only share what's worked for me but I hope this book can be a source of encouragement, inspiration and support for your own healing journey...whatever that looks like for you. 
xo Tracy
If you'd prefer something a little more hands-on, check out the flash card version of Healthy ReMINDers in my shop.
Contact me for special pricing on multiple book purchases.
Check out these testimonials:
Tracy Kelly has created a true gem with this "Healthy ReMINDers Handbook"! There are pearls of wisdom consistently shared throughout like an outstretched hand of love, compassion and understanding. I personally found solace, comfort and a sense of comradery in Tracy's heartfelt sharings. It made me wonder if my own tumultuous history of facing unexpected tidal waves of invisible wounding and periods in the dark abyss of despair would have been shorter with this handbook. How timely for this wisdom to be imparted... right in the midst of a global pandemic which is causing numerous upheavals in the psyche and a spike in existential questioning. May this work of art and healing be received with profound gratitude into your heart as it did for me. - Rev. Laurie Nevin Metaphysical Minister & Certified Reflexologist
Firstly, I LOOOOOOVE books! All books, but my favourite books are those with beautiful pictures or that are fun and joyful to just pick up and peruse or those that help me to delve deeper within myself! This wonderful little book is ALL of those things! Tracy's authentic words combined with her perfectly chosen photos create a synergy you just WANT to keep flipping through. Whether you are seeking a book to inspire you, to add a bit of beauty to your day or to help you balance your mind, you will love and appreciate Healthy ReMINDers!!! Get yours today and enjoy! - Melinda Whitehead Aromatherapist, Spiritual, Intuitive & Holistic Health Teacher and Practitioner