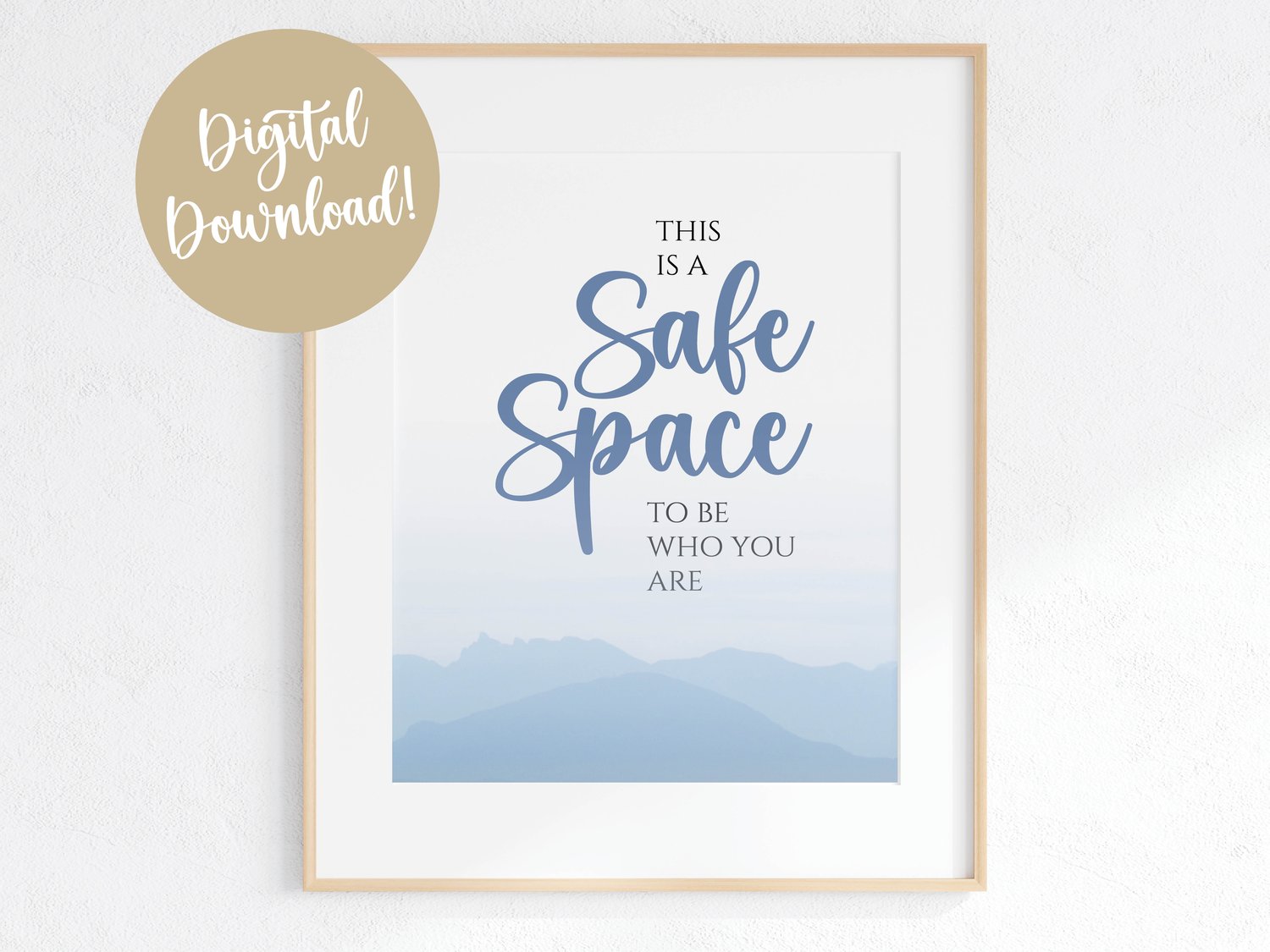 Safe Space Wall Art
PRINTABLE, DIGITAL DOWNLOAD
NO PHYSICAL ITEM WILL BE SENT
Have you ever sat in a therapy room and wish you'd seen something like this on the walls? I have. When emotions run high and words are hard to express, having something beautiful or inspiring or encouraging to look at can help you feel safe and understood. They can be reminders to help you calm down and remember what you need to focus on.
Perhaps you're a therapist, counsellor or other wellness practitioner looking for something to decorate your office or practice room. Maybe you're someone who wants to have some wall art that reminds you of your therapy sessions and what you learned. Or maybe you just love inspirational artwork and want something inspiring and beautiful to decorate your home. Either way, I hope you consider my designs.
This poster, This is a safe space to be who you are, is a statement and reminder that the place that you are in is a safe space to be exactly yourself. Relax, breathe and know that you are held in safety, security and non-judgement. Be it for a mental health practitioner's office or to hang as a reminder in your home, feeling safe is paramount to feeling well.
By purchasing this listing you will receive one compressed/zip file with the design No Shame...Just Be in five PDF sizes:
8"x10"
11"x14"
16"x20"
A3
A4
Plus an instruction sheet
All are print-ready and can be printed at whatever location you like. They have a bleed edge (meaning the image is slightly larger than the final trim size). Most printers will understand this and online uploaders should accommodate this. If you have any questions, please don't hesitate to ask. Buying a digital download gives you the freedom to print what size you like, where you like, choose paper stock and finish as you like as well as saving shipping costs and delivery time. Your file will be sent with purchase.
For other mental health wall art designs or to purchase a bundle that includes all six designs, please check my Shop.
Each purchase is limited to three downloads.